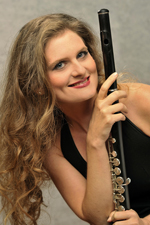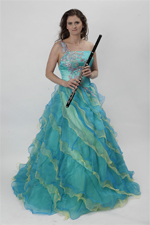 Geboren in Wien, steirische Wurzeln
Studium & Diplom
Studium und Diplom an der Universität für Musik und darstellende Kunst Wien (Prof. W. Schulz) und an der Hochschule für Musik Freiburg/Breisgau, Deutschland (Prof. R. Aitken)
Meisterkurse & Wettbewerbe
Meisterkurse bei Peter Lukas Graf und Robert Aitken
Gewinnerin der Wettbewerbe Jugend musiziert, Musica Juventutis, Forum junger Künstler, Talentinum und Live Music Now (Yehudi Menuhin Foundation)
Solokonzerte
Solokonzerte mit dem Wiener Mozart Orchester, Wiener Kammerorchester, Cape Town Philharmonic Orchestra, Orchestre Filharmonique de Besancon, Capella Istropolitana, London Gala Orchestra, Thames Chamber Orchestra, Philharmonie Hradec Kralove, Bohuslav Martinu Philharmonic Orchestra,  Rousse Philharmonic, Lublin Philharmonic Orchestra, Orchester des Slowakischen Rundfunks und Bratislava Symphony Orchestra
Kammermusik Konzerte
Kammermusik Konzerte in den größten Konzertsälen Österreichs (Konzerthaus, Musikverein Goldener Saal, Brahms Saal, Brucknerhaus Linz, Carinthischer Sommer,…), Deutschland, Tschechien, Polen, Ungarn (Szeged Intern. Music Festival, …), England (London Chamber Music Festival, …), Irland (Festival Music in Great Irish Houses,….), Iran (National Concert Hall, Int. Fajdr-Music Festival,…), USA, Südafrika, Holland, Schweiz, Frankreich, Italien, Nepal und Indien, Konzerts auf dem Kreuzfahrtsschiff MS Europa (Hapag Lloyd).
Tutorin
Tutorin beim Sandor Vegh Symposium für Holzbläser Oberösterreich, Kammermusik Workshops in Irland, Nordirland, China, Iran und Südafrika. Tutorin im Hugo Lambrecht Music Centre Kapstadt, DIT College Dundalk, Irland, Art University Teheran und Shiraz, SACS College Kapstadt, Lord Yehudi Menuhin Foundation Kapstadt – Unterricht für unterprivilegierte Kinder in Townships in Süd Afrika, Coaching des Iranischen Jugend Orchesters, Tutorin am Conservatoire New Delhi,Tutorin beim Fajdr Festival Teheran und im Conservatoire Teheran, Tutorin beim Cross Communication Project Nord Irland für Protestanten und Katholiken, Tutorin in der Kerry School of Music, Irland.
Gast Tutorin an der University Melbourne, Australien
Wiener Staatsoper & Burgtheater
Vertrag beim Bühnenorchester der Wiener Staatsoper
Vertrag im Burgtheater Wien (Orchester), später Produktionen wie "Wilhelm Tell", "Einen Jux will er sich machen", "Orpheus in der Unterwelt", "Cyrano de Bergerac" (C.M. Brandauer)
Soloflöte & Solo Piccolo
Kompositionen
Karin hat 4 neue inspirierende CDs für Flöte, Harfe und Orchester komponiert und spielt auf einer Holzflöte, Piccolo, Irischen Tinwhistle, Altflöte und Indianerflöte. In ihren Kompositionen kommen auch keltische Instrumente vor, z.B. uillean pipes und Weltinstrumente wie Didgeridoo.
CD Aufnahmen
"Impressionen" (Flöte & Gitarre)
"Soul Alignment" (Improvisationen Flöte & Synthesizer) Neuauflage beim KOPP VERLAG in 432 Hertz
"The Gardens of Birr Castle Demesne" (Flöte & Harfe)
"Music of Great Irish Houses" (Flöte & Harfe)
"Earthmagic" (Flöte, Harfe, Orchester)
"Seamagic" (Flöte, Harfe, Orchester)
"Skymagic" (Flöte, Harfe, Orchester)
"Firemagic" (Flöte, Harfe, Orchester)
"Christmas Magic" (Flöte, Klavier)
"Heart Alignment" (Flöte & Synthesizer) 432 Hertz nbeim KOPP VERLAG
"Paradise Alignment" (Flöte & Synthesizer) 432 Hertz, erhältlich ab Mai 2018
Fernsehen & Radio
Fernsehauftritte und Radio-Sendungen in and Radio broadcastings Österreich (Ö 1) , Frankreich, Ungarn, Irland (Lyric Fm, Midland Radio 3, Highland Radio,…), Nordirland (BBC 1), Südafrika, Australien und Tschechien
Andere Highlights
Artistic Director – Karin war Artistic Director des Vienna Film Orchestra
Filmball 2010 – Karin spielte "Titanic" (Flöte & Irische Tinwhistle) beim Filmball 2010 für Kevin Spacey, Maximilian Schell und Christoph Waltz.
Kompositionsauftrag – Karin hat einen Kompositionsauftrag der Stadt Wien erhalten und war 2012 Artist & Composer in Residence in Teheran, Iran.
Karin erhielt eine United Nations Award weil sie Konzerte gab in Nepal im Bürgerkrieg.